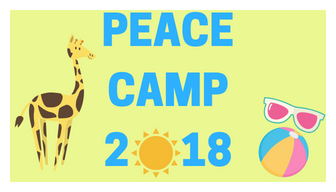 Help us get ready for Peace Camp 2018
Tubman's Peace Camp is a free summer, day activity program for youth ages 5 and up who are staying in our shelters. Peace Camp provides weekly themes that blend educational and recreational programming to create fun and engaging learning opportunities for kids during the summer months. Peace Camp also offers monthly field trips that include parents/guardians and younger siblings so all can enjoy positive family enrichment opportunities!
More details about how to make a donation are available here.
Below is a list of some priority needs for this year:
NEW Boys and teen boys flip-flops

NEW One-piece swim suits for girls ages 5-18

NEW boys swim trunks for ages 5-18

Group outing tickets (Science Museum, movie theaters, zoos, amusement and water parks, etc.)

Snacks (granola bars, fruit cups, fruit snacks, etc.)
---
Donating Goods and Services
Clients often come to us with little more than the clothes on their backs. Please see below for a list of guidlines that will help someone building a new life for themselves and their families.
Items for donation, except Harriet's Closet donations, should be new and/or unopened; for personal care items such as shampoos and conditioners, full-sized bottles are preferred.
Please keep in mind we cannot accept certain used items and are unable to pick up or deliver items due to our limited resources.
Items brought in for donation with more than $500 in total value need to accompanied by an itemized list for tax purposes.
Tubman does not accept clothing or play equipment for infants and children. 
Due to space constraints, please limit the number of boxes/bags brought in. Items that our clients cannot use will be donated to partner organizations to benefit others in need.
For Harriet's Closet donations, please make sure they are professional and/or business casual clothing.
For questions on specific donations, please call 612.825.3333.
Families and individuals need:
• New bath towels and washcloths
For a full list, check out our General Wish List guide.
We will provide you a receipt for your charitable giving purposes. The IRS stipulates that donors must estimate the value of their contributions. Please consult your tax advisor with specific questions.
Donations are accepted at the following locations and times:
Tubman Center West
3111 First Avenue South
Minneapolis, MN 55408
Monday-Thursday: 8:00 a.m. to 5:00 p.m.
Friday: 8:00 a.m. to noon
Tubman Center East
1725 Monastery Way
Maplewood, MN 55109
Monday-Thursday: 8:00 a.m. to 5:00 p.m.
Friday: 8:00 a.m. to noon
Special arrangements and questions may be made by calling 612.825.3333 or emailing give@tubman.org.
Harriet's Closet
Harriet's Closet accepts donations for ALL GENDERS!
Harriet's Closet is our volunteer-run boutique where people can shop for up to 3 outfits per month at no cost. Your gift of new or gently-used professional or business casual clothing, shoes, and accessories, will help women and men of all sizes feel confident as they interview and begin employment, or attend court proceedings.
Items should be current, seasonal, clean and new or in good repair. Periodically, we look for similar items for youth of all genders. Please call 612.825.3333 or email give@tubman.org to ask about our current needs.
Read our Harriet's Closet Guidelines to also learn more about donation needs.
Donation of Professional Services
Tubman relies on the generosity of area businesses to benefit the agency and our clients while reducing our operating costs.
Please call 612.825.3333 or email give@tubman.org if you are interested in contributing your services, products, or skills!